Larocque East
The Larocque East property consists of 6 mineral claims totaling 3,200 hectares and was recently purchased in May, 2018. The property is owned 100% by IsoEnergy and is unencumbered. Larocque East is immediately adjacent to, but not quite contiguous with, the north end of IsoEnergy's recently expanded Geiger property. It is 35 kilometres northwest of Orano Canada's McClean Lake uranium mine and mill.
The property covers a 15-kilometre-long northeast extension of the Larocque Lake conductor system; a trend of graphitic metasedimentary basement rocks that is associated with significant uranium mineralization in several occurrences to the southwest of the Larocque East property. The closest of these are the Larocque Lake and Larocque North zones, which are located 6.5 kilometres and 0.4 kilometres, respectively, to the southwest of the western Larocque East property boundary. Drilling at the Larocque Lake zone has returned historic intersections of up to 29.9% U3O8 over 7.0 metres in drill hole Q22-040. Drilling at the Larocque North zone has returned intersections of up to 2.05% U3O8 over 0.8 metres in drill hole Q22-16. Like the nearby Geiger property, Larocque East is located adjacent to the Wollaston-Mudjatik transition zone - a major crustal suture related to most of the major uranium deposits in the eastern Athabasca Basin. Importantly, the sandstone cover is thin, ranging between 140 metres and 330 metres in previous drilling.
A total of 23 historic drill holes have been completed on the property along approximately 22 kilometres of graphitic conductors. Five drill holes have intersected weak uranium mineralization on the Larocque East property to date, including drill holes KER-07 (0.12% U3O8 over 0.1 metre) and KER-11 (0.06% U3O8 over 0.5 metre) near the western property boundary, within the general vicinity of drill hole LE18-01A.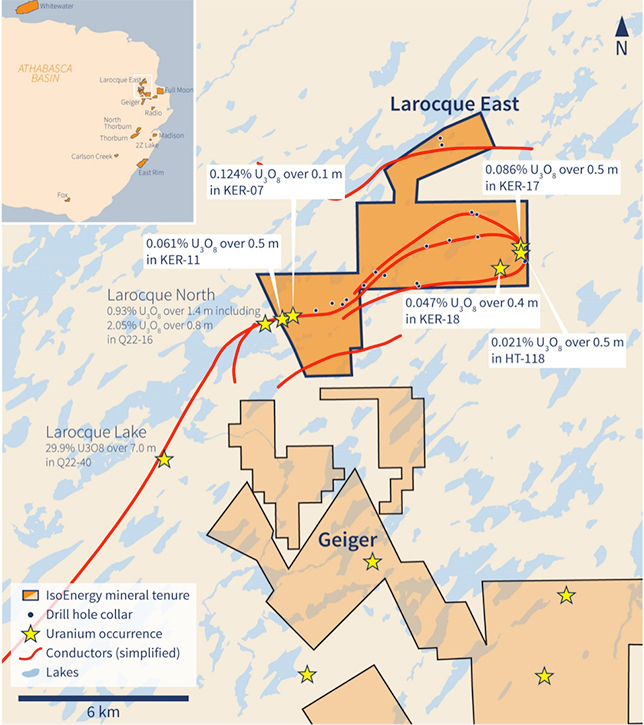 Email Signup
Sign up for the latest news and updates