Mountain Lake
Mountain Lake Uranium Deposit
Discovered in 1976, the property area was the subject of intense exploration during the 1970s and 1980's, when Acquitaine Company of Canada and Esso Resources Canada completed 190 drill holes totaling approximately 22,000 m on the project area. Pitchstone Exploration Ltd. (Pitchstone) and Triex Minerals Corp. (Triex) carried out additional exploration during the period 2005-2008, including the completion of 30 drill holes in the area, 15 of which were located within or immediately adjacent to the Mountain Lake deposit itself.
Uranium mineralization at Mountain Lake is hosted within sandstone of the mid-Proterozoic Dismal Lakes Group within the Hornby Bay Basin. The deposit is a shallow-dipping (5-10 degrees) tabular zone of strata-bound mineralization that extends from the top of the bedrock (10-30 metres below surface) down to approximately 180 metres below surface at its deepest point. Overall the mineralization covers an area measuring 1,300 metres long and up to 320 metres wide. The thickness ranges from 1.0 to 6.5 metres. High grade mineralization is locally present, with drill intersections returning up to 5.19% U3O8 over 0.9 metres.
Historical Mineral Resource
The property contains a historical inferred mineral resource estimate of 8.2 million pounds U3O8 with an average grade of 0.23% U3O8 contained in 1.6 million tonnes of mineralization. The estimate was reported in the technical report entitled "Mountain Lake Property, Nunavut" prepared for Triex and dated February 15, 2005. This resource is a historical estimate and a qualified person has not done sufficient work to classify the historical estimate as current mineral resources. As a result, the historical estimate is not being treated as a current mineral resource. However, the Company believes that the historical estimate is relevant and reliable, as it was prepared by a Qualified Person (as defined in National Instrument 43-101 – Standards of Disclosure for Mineral Projects) with significant experience on the project, using methods that were standard in the industry. In order to upgrade or verify the historical estimate as current mineral resources, the Company anticipates that it will need to incorporate the drilling data collected by Triex and Pitchstone in 2006-2008. The historical resource uses the "inferred mineral resource" category set out in section 1.2 of National Instrument 43-101. There are no more recent estimates available to the Company.
The historical estimate was prepared with the polygonal method using only intervals greater than 0.1% U3O8 with a vertical thickness of at least 1.0 metre. Polygon sides were determined by drawing lines perpendicular to, and one half the distance to each adjacent drill hole. Estimated uranium was then obtained by multiplying the polygon areas by their thickness, a specific gravity of 2.5, and the grade of the drill hole interval. The mineral resource was classified as inferred.
Figure 1 – Mountain Lake Property Claims and Deposit Outline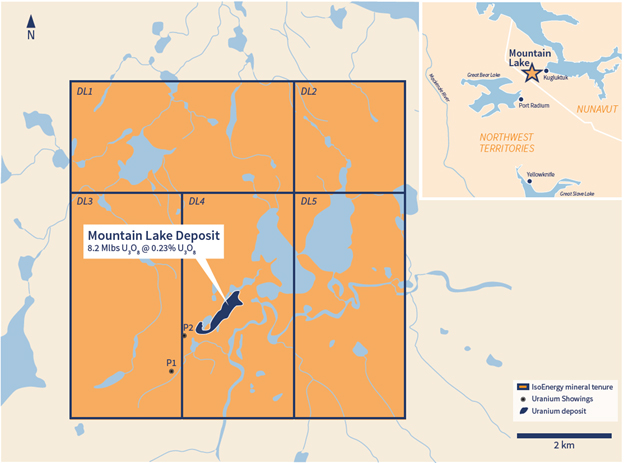 Email Signup
Sign up for the latest news and updates