Thorburn Lake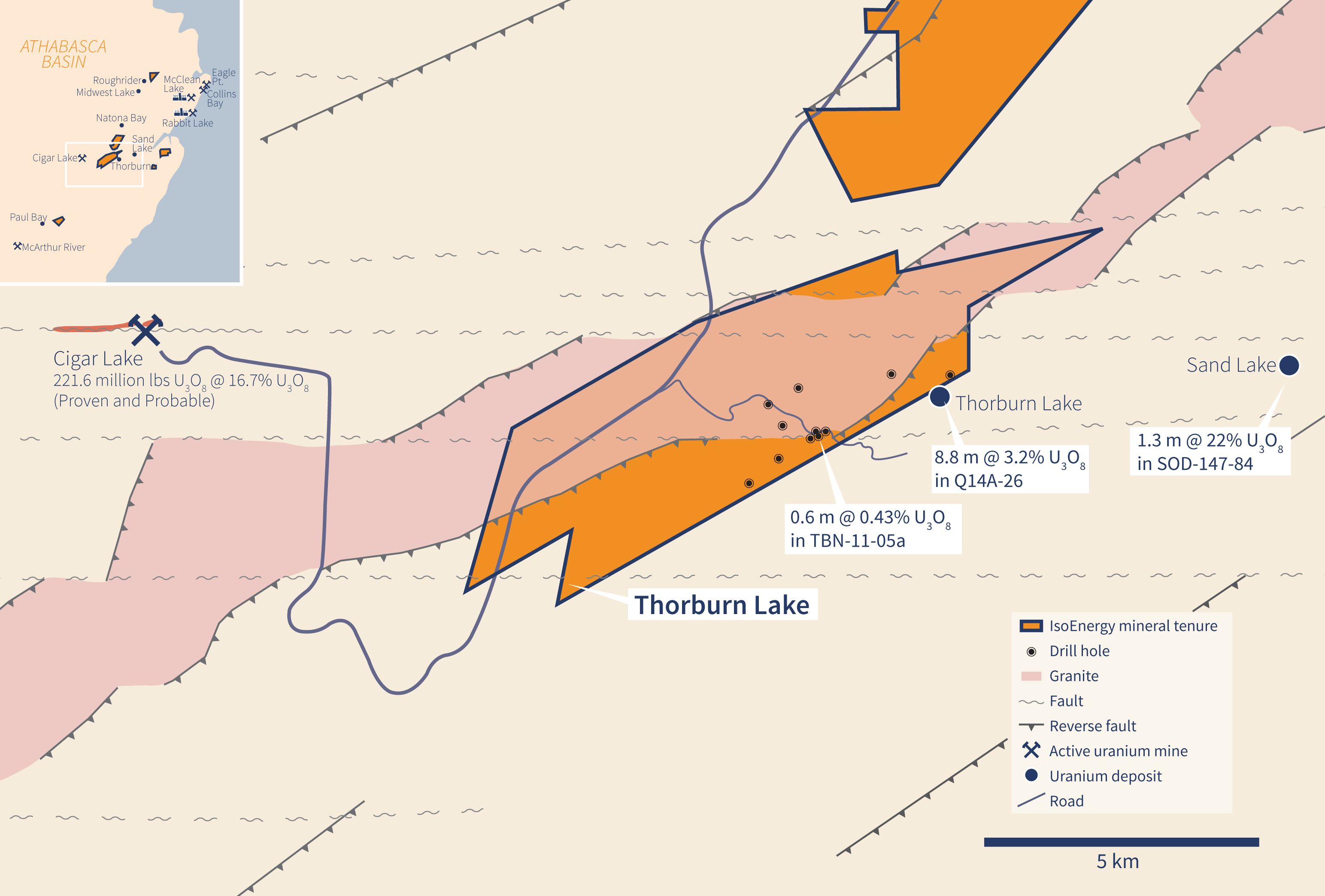 Thorburn Lake Geology, Drill Holes and Key Features
IsoEnergy holds a 100%-interest in the Thorburn Lake property located just 7 kilometers east of Cameco's Cigar Lake mine and 300 metres north of Cameco's Thorburn Lake uranium occurrence.
In total only 14 drill holes have been completed on the Thorburn Lake property. Four were drilled in 2008 and identified uranium enrichment at the Athabasca Group-basement unconformity, with uranium analyses as high as 90 ppm over 5.1 metres. A follow-up program was completed in 2011. Of the ten holes drilled in 2011, four had significant uranium anomalies associated with alteration envelopes at the unconformity. Drill hole TBN-11-05a intersected visible pitchblende veins and disseminations. This drill hole yielded a best result of 3610 ppm U (0.43% U₃O₈) over 0.6 metres, in the basement directly below the sub-Athabasca unconformity. The interval occurs within a larger weakly mineralized zone with a grade of 0.019% U₃O₈ over 8.0 metres straddling the unconformity.
Uranium mineralization intersected in TBN-11-05a, Thorburn Lake Property
The majority of drill holes completed by Titan Uranium intersected anomalous concentrations of uranium, extensive highly prospective hydrothermal alteration and graphitic pelitic rocks commonly host to world- class uranium mineralization in the Athabasca Basin. With only 14 drill holes completed to date, exploration at Thorburn Lake is at a very early stage and the property is highly prospective for both unconformity and basement hosted uranium mineralization.
The Cigar Lake mine haul road passes through the Thorburn Lake property. Total mineral reserves at Cigar Lake are 221.6 million lbs of U₃O₈ at 16.7% U₃O₈ (www.cameco.ca). The Thorburn Lake property also sits within 300 metres of the Thorburn Lake uranium occurrence where mineralized intersections including 10.0% U₃O₈ over 9.9m have been reported.
Email Signup
Sign up for the latest news and updates