Radio
IsoEnergy holds a 100%-interest in the Radio project in the eastern Athabasca Basin contiguous with Rio Tinto's Roughrider deposit (Rio Tinto bought Hathor Exploration in 2012 for C$654 million).
Before IsoEnergy, only one campaign of drilling had ever been completed on the Radio project. NexGen Energy drilled a total of nine holes (totaling 3,472.9 metres) during the summer of 2013 and identified clay alteration, structural disruption in the Athabasca sandstone and alteration and structures in the basement rocks. These features are known to occur at or in the vicinity of high-grade uranium mineralization in the Athabasca Basin.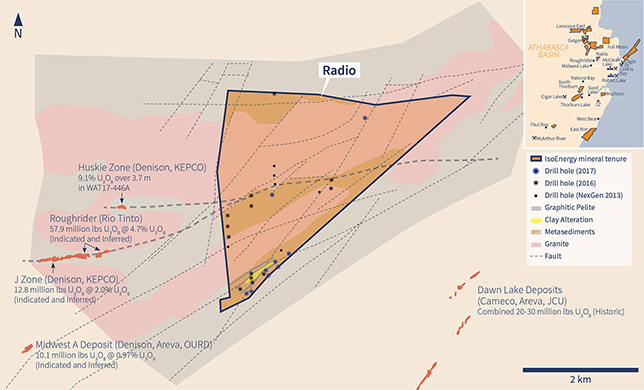 Radio Property Regional Magnetics and Target Areas
IsoEnergy has completed 23 drill holes totaling 8,859 metres in two campaigns in 2016 and 2017. Drilling targeted three east-west oriented magnetic lows on the property, including the Roughrider corridor that extends onto Radio from Rio Tinto's Roughrider deposit, 2km to the west.
The drilling successfully located a large zone of strong basement hosted clay alteration in the southern magnetic low corridor. The zone is similar to the alteration zone surrounding the Roughrider deposit and is associated with strongly graphitic structures and locally elevated uranium and uranium pathfinder geochemistry.  
Email Signup
Sign up for the latest news and updates